The WALLER 1160 is a full bridge deck cat built in cedar strip/glass composite, to produce a sound and comfortable ocean cruising yacht . Bulkheads and partitions are in plywood, with interior joinery in honeycomb composite panels.

The design& features mini keels for cruising simplicity and cost , inboard diesel sail drive engines for safety, convenience and reliability and 3 alternate internal arrangement choices
DIMENSIONS
​
L.O.A. 11.60 Mtrs
L.W.L. 11.33 Mtrs
Beam 6.78 Mtrs
Draft 1.00 Mtrs
Displacement 6300 Kg
Hull Length / Beam 10.4:1
Sail Area 84.5 Squ Mtrs
Payload (Ave) 1000 Kg
Payload (Max) 2000 Kg
Headroom (avg) 2.0 Mtrs
Bridgedeck clearance 0.87 Mtrs
​
Note# All displacement and payload weights above are as per designed plan, and cannot be guaranteed.
CONCEPT

The Waller 1160 is intended to be easy to build, and capable of living aboard and ocean voyaging. Because she is intended for extensive live aboard cruising, she has been designed for strength, load carrying ability and internal roominess. She is designed for safe but good performance rather than all out speed (although boats launched to date have reported excellent performance), and as such is, at 6.3 Tonne, a medium displacement vessel.

RIG

The Waller 1160 comes with a medium tech fully battened sailing rig and alloy mast and boom as standard. The rig is the typical heavy roached, fully battened main and 7/8th rig which time has shown to be the most efficient rig for this type of vessel.

CONSTRUCTION

The Waller 1160 utilises what I like to think of as 'sensible' material choices, using the best material for each application. The hull shell is cedar strip and glass composite, for strength, and ease of construction, while the bulkheads and partitions are plywood for speed of construction and low cost. The cockpit area employs foam / glass composite panels for ease of construction, and the joinery is in Honeycomb / glass panels for ease of constructin and light weight. Full use has been made of timber / epoxy construction, with a minimum of timber framing.

ACCOMMODATION

The Waller 1160 comes with three alternate accomodation plans (standard galley up and galley down, plus a 4 sleeping cabin option) Both standard arrangement plans feature twin berth cabins forward and a double berth in the aft Starboard hull, with W.C./ Shower compartment to port aft. The galley up arrangement features galley and dinette on the bridge deck, whilst the galley down features a larger lounge area and navigation chart table on the bridge deck , plus a larger galley in the mid starboard hull. The 4 cabin option features sleeping cabins fore and aft, port and starboard, with the W.C. compartment midships to port.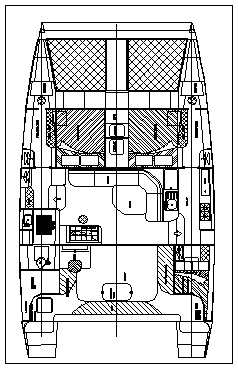 Click on any photo for larger image and information